Blackjack 3
Online Blackjack Real Money – Keep What You Win With Express Casino
Today there are so many video slots available with interesting themes and innovative features. However, the popularity of the casino table games is as strong as ever. Blackjack along with its various variations remains a favourite among the players. This online Blackjack real money game's availability at online casinos has only increased its acclaim. Blackjack 3 from NetEnt allows the players to play up to 3 hands at the same time.

About the Developer of Blackjack 3 – Join Now!
NetEnt has developed some of the table games with innovative features, Blackjack 3 being one of them. They have developed casino software since being founded in 1996. The games developed by them include slots, table games, lottery, and much more. This online Blackjack real money game is also developed by the company.
About the Game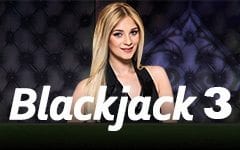 This online Blackjack real money game is played using 6 decks of cards. The cards are shuffled before each time the round begins. The players are allowed to place bets on either 1 or 2 or 3 hands at once. Playing with more hands gives more chances of winning to the players. To win simply accumulate more points than the dealer. Try to be as close to 21 points as possible without exceeding it to win the round. If your hand exceeds 21 points then it is bust for you and the dealer wins the round. The dealer distributes the cards after the bets are fixed. The dealer gets one face-up card and one down card. Your each hand will receive two face-up cards. Your cards, as well as the dealer's face-up card, will help you in determining which option to take. Hit, Stand, Split and Double are some of the options available to you.More options more control – hurry!
This online Blackjack real money game from NetEnt comes with some special features:
You can view the last ten hands of the dealer at the top right corner.

The option of asking for Even Money is also available if you get a Blackjack and the dealer's face-up card is an Ace.

The pay table can also be viewed at the bottom left side by clicking on the info icon.

Summary
This online Blackjack real money game while retaining the basic rules of the classic Blackjack gives the players an option of playing up to three hands at the same time. If you are well knowledgeable about the Blackjack rules and strategies then this online Blackjack real money game becomes a cakewalk for you.
Online Blackjack Real Money – Keep What You Win With Express Casino