Live Blackjack
For well over a hundred years now Blackjack has been the main game offered by casinos and as time has gone on this game has only evolved to get better and better. As of right now the most exciting form of this game is most assuredly Live Blackjack which has taken the best bits about all other forms of Blackjack and rolled it up into one incredibly exciting package!
Play live casino Blackjack online
We're sure we don't need to go into the rules of Blackjack for you here as we'd imagine nearly every household up and down the country has played Blackjack for fun if not at the casino so instead we'll tell you what live Blackjack is and how to play it.

In its most basic form live Blackjack is just the exact same game you get in your local casino with the same rules and the same experience. The only difference here is where you'll be playing the game from as now you have the choice to play anywhere in the world you want. The technology that's used to make live Blackjack is still relatively new and it allows players to truly immerse themselves in the game from home thanks to the fact there's a perfect sound system in place picking every sound up, the graphics here are fully HD, and there's virtually no lag to be found anywhere so it's quite easy to get caught up in all the action and excitement! It should also be mentioned you're able to talk to your dealer as you play so you're still getting that personal and engaging experience which makes casinos such a fun place to play.
Now if this sounds like the perfect thing for you then you'll be happy to hear live Blackjack is as simple as it is fun to play so you'll be able to get set up and playing in just a couple of minutes! Picking a site is probably the hard part in all this – not because there's places you need to avoid but simply due to the fact they all offer ridiculously lucrative bonuses so you'll be absolutely spoiled for choice. We'd say find a site that offers a no deposit bonus first as this gives you a chance to play live Blackjack for free and to see what all the fuss is about.
When you've picked your site, taken the bonus, and clicked on the "live casino" tab to head to the games lobby you'll find there will be more than just a handful of Blackjack tables for you to choose from. Many of these will be the classic Blackjack game you know and love however there will also be a few additional variations of this game which are just as exciting and offer something just that little bit different.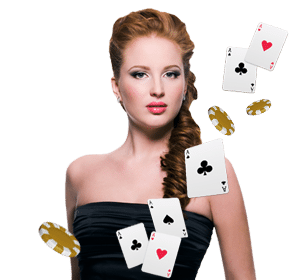 When you click on the table you like the look of a live stream feed of that table will begin revealing the dealer, the betting table, the deck of cards, and the betting chips. The deck of cards is probably the first thing that will catch your attention as they've been supersized in order to make them easy to see even for mobile players. To make a bet you'll want to pick up a chip and place it in the betting box you desire and to do that you click once on the chip you want to bet with and then once again on the betting table where you'd like it placed – simple!
When the action gets round to you all your available options will pop up on the screen and you only need to click the one you like to make it happen.
This is all the information you need to get started in the live Blackjack games and just remember – if you're still feeling a little nervous you can always take a live casino up on their no deposit bonus to learn the ropes a bit better first!

[/vc_column_text][/vc_column][/vc_row]